Fault indicators
When reliable and fast indication of the failure section is needed after a short circuit, the fault detectors are a must-have. Fault circuit indicator is used to detect short circuit failures or phase-to-earth faults in electric power distribution networks. When it comes to an earth fault, an earth fault indicator is required. This device is projected to detect and report each incident in distribution networks of medium voltage. The abovementioned equipment reduces substantially the time and costs needed to find out the point of fault and eliminate the incident.
Streamer Inc. had built the perfect customer trust. We design the indicators that undergo the three-stage quality control successfully. It means that our equipment will serve for at least 10 years without changing a battery.
The installation of detectors was hardly ever so simple and ordinary. The further maintenance is even easier, because there is no need in that. These FCI will bother you only with its intended application, i.e. when a short-circuit happens.
One more thing about the true beauty of our devices is that they have an anti-vandal construction. No idle barbarian could just throw a stone and break the equipment ― the latter is out of option.
The products
Mk8

MK9B

MK10

Portable / fix installed

portable
portable
portable

Position of installation

pole – on eye level
pole – on eye level
pole – on eye level

Operating line voltage

High Sensitivity14 A

Low Sensitivity 70 A

Sensitive earth fault 4 A

Normal 15 A

High Sensitivity 14 A

Low Sensitivity 70 A

Communication

No
No
GSM/GPRS

Fault indication

red flag
red flag
red flag+COM

Fault phase indication

-
-
-

Fault direction indication

-
-
-

Difference transient/ permanent fault

-
-
-

Configuration

Manual

Manual

Manual or COM

Live line installation

Yes
Yes

Yes
Connect to SCADA
-
-
-
Option
3 pcs carry-on case
3 pcs carry-on case

3 pcs carry-on case

Software
| | | | | |
| --- | --- | --- | --- | --- |
| | P360 A | P360 A ROSCO | P360 AC GSM | P360 AC GPRS |
| portable / fix installed | fix | fix | fix | fix |
| position of installation | pole – 3m below conductor | pole – 3m below conductor | pole – 3m below conductor | pole – 3m below conductor |
| operating line voltage | 6 kV-66kV | 6 kV-66kV | 6 kV-66kV | 6 kV-66kV |
| min fault current | 12 A | 12 A | 12 A | 12 A |
| fault indication | LED | LED | LED | LED |
| fault sending | - | output | SMS sending | data sending via GPRS |
| fault phase indication | - | - | - | - |
| fault direction indication | - | - | - | - |
| difference transient / permanent fault | + | + | + | + |
| connect to SCADA | - | + | - | + |
What we offer in addition to our products:
impressive 10 years of FPI service;
direct, over-the-counter price;
manufacturer's warranty for 5 years;
innovative technology;
ultimate reliability.
How does fault indicator work?
The detector should be placed on key places on the line.
In case an accident happens, it measures a short failure all along of the fault path.
Each detector, located on that path, indicates the accident. It becomes easy to find the failure just keeping to the path.
The device can communicate by sending the information with SMS/GPRS. It helps to determine the failure section.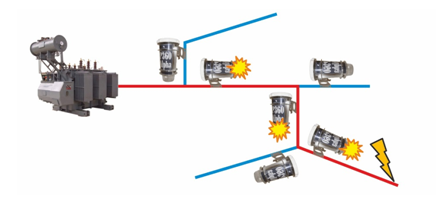 Main features of modern fault detecting devices
high indication visibility, which is possible due to high-brightness LED or xenon light sources;
failure information transmitting straight to the control station, using the GSM-connection and radio networks with data relaying;
good selectivity: it is possible to adjust the device response conditions depending on specific line preferences;
high accidental flowing sensitivity: the newest EFI detect earth faults with stream less than 1A.
Pole mounted and conductor mounted FCI range
When it is needed to fit out the line with FCI, pole mounted range is a cheap and easy solution.
The conductors' magnet field is checked by the detectors. The magnetic field imbalance is detected by the fault indicator during a phase to ground or a phase to phase of the short.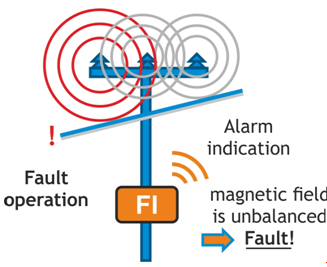 ---
* All CL indicators are designed by A-TREE Research & Development Company Ltd.